The optional Genesis-ITA module interfaces directly with Genesis-SMS . When a student rests their palm on the biometric palm scanner or swipes their time card through the magnetic strip reader the time is automatically and instantly stored directly into the Genesis-SMS database. Because Genesis-SMS and the Genesis-ITA module are fully integrated, there is NO EXPORTING from an external time clock AND IMPORTING data. The DATA is LIVE! With a click of your mouse Genesis-ITA gives you the ability to know, at any given time, which students are present or absent. This is an unmatched, original and unique feature that only Genesis-SMS can offer.
You can also customize your Genesis-ITA parameters! Genesis-ITA allows you to control the number of minute increments by which time is recorded, as well as the number of minutes required between each badge swipe which will eliminate duplicate swipes. Genesis-ITA also gives you rounding power so that times can be rounded if students arrive early or stay later than approved. Genesis-ITA even lets you include or not include student breaks!
Time Clock
Features
Unique Direct Live Interface with Genesis-SMS .
No Exporting and Importing Data
No Involved Software to Learn and Ma nipulate
Instant Access to Present or Absent Students
Auto Reminder of Any Previous Day Discrepancies
Customizable Time Recording Parameters
Saves Time and Reduces Ma nual Labor
Detailed Time History Reports
Easy to Use!
Genesis-ITA Module Includes
More Advanced Badge Reading Unit
Digital Display Time Card Swipe Confirmation
Connects to 9 Pin PC Serial Port or USB Port
Includes External Power Supply Required
Includes 6 – Foot Cable
Optional Lengths up to 4,000 Feet
Includes Genesis-ITA Integration Software
Bi-directional Read Capability
25 Free Base Time Cards
Reports, Reports, and More Reports!
Time Cards
Genesis-SMS can also supply optional time cards if needed. Either use the base Genesis-ITA time card or actually have your school logo, name, address, phone number, and the student's picture right on the badge! Even present a message or your school slogan. For example, "If Found, Please Return to: ABC School " or " ABC School , #1 in Career Education!".
Palm Scanner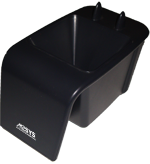 Genesis is pleased to offer the latest technology in biometrics with the introduction of the palm and vein scanner.
The palm vein scanner uses a near-infrared light to create a "vein map" of the users palm to perform highly accurate and secure biometric recognition. Unlike other forms of biometric technology, palm biometrics are robust and scan beneath the surface of the skin demonstrating a high tolerance of skin surface problems such as dryness, roughness, moisture, or scarring.
With extremely low failure rates, non-intrusive contactless authentication, and the highest reliability of all hand or finger based biometric authentication readers, the palm vein scanner is the ideal and most superior biometric reader for all environments.
Features and Benefits
•Difficult to Forge
Because vein patterns exist inside of the body, it is practically impossible to recreate someone's biometric template.
The sensor of the palm vein scanner needs the hand and blood flow to register an image.
•Contactless
When using the palm vein reader, the hand does not have to touch the sensor which improves hygienic concerns and scanner durability.
Instructional Video on how to use the Palm Scanner  http://www.youtube.com/watch?v=lOdhbde9-Zw&feature=player_embedded